The fRiDaY File, for September 7, 1999



TechWave 99 WrapUp
---
<! ******************** ******************** >
Quote Of The Day - Sunday
"The RIM does everything except receive pages."
- Anonymous, who would refuse to admit he said it anyway
---
<! ******************** ******************** >
Quote Of The Day - Monday
"A Legacy Application is any application that works."
- Robert Epstein, Sybase cofounder and Executive Vice President
---
<! ******************** ******************** >
Did you get one of these?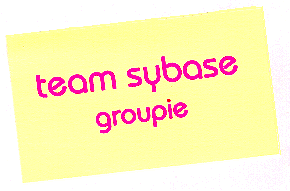 A supply of Team Sybase Groupie cards was provided to all members of Team Sybase in case they wanted to hand them out to friends and supporters of the Team.
Team Sybase members ain't rock stars, and they're certainly not in the team for sex, drugs OR even rock 'n roll. It's an intellectual thing (well, *most* of the time :) and the Team Sybase Groupie cards are a way of recognizing folks who aren't members but are nevertheless close to the team in one way or another.
So if you got one of these cards at Techwave 99, you should feel honored. Certification is one level of recognition, Team membership is another, and *then* there's Groupie status!
And if you didn't, Techwave 2000 is just around the corner.


---
<! ******************** ******************** >
Quote Of The Day - Tuesday
"Does anyone have a pen?"
- Yours truly, having missed the point of owning a Palm V Organizer
"You don't need a pen, you just bought a Palm."
- Anonymous newbie, pointing out that yours truly was having another Senior Moment
---
<! ******************** ******************** >
Best Morning Session (tie) - AM21

Fast Track to Sybase UltraLite Technology

- Kouros Gorgani
Kouros Gorgani knows what he's talking about, plus he really can get the point across, and best of all: UltraLite is way cool!


---
<! ******************** ******************** >
Best Morning Session (tie) - SQL2

Designing Your Database for Replication and
UltraLite Synchronization

- Steve Rice and David Fishburn
MobiLink is the best part of all this UltraLite stuff, and that's not even the best news! Soon MobiLink is going to work with a full ASA remote database; in other words, laptops and desktops will be able to talk to the MobiLink server as well as handhelds.
That means the direct-connect MobiLink synchronization will be an alternative to the loosely-coupled SQL Remote replication...
...which is good news for some applications which need lower latency than publish subscribe but don't need (or can't use) Replication Server.


---
<! ******************** ******************** >
Sypub - Good News, Bad News
Ooops, it turns out sticking up a sign saying "Sypub" at the Dolphin Hotel during Techwave 99 wasn't the *brightest* idea I've ever had. Fortunately, the very *first* person who saw it was in charge of the whole conference, and he said those magical words,
"Did you get approval for this?"
Let's just say the folks who spent big bucks putting together promotional events at Techwave weren't gonna be pleased about a guerrilla reception, even IF it was a turnabout where the outsider pays for Sybase employees to have a good time.
So that's the bad news... no one saw my cute Sypub sign, including the flip-up sandwich board that read "WILL CODE FOR FOOD".
But that didn't stop the drinking... the good news is that several dozen folks showed up on Sunday eventing, mostly from the Mobile and Embedded Computing division (a.k.a. SQL Anywhere, Ultralite, MobiLink, formerly known as Watcom) and had a good time.
Bad news: Several of the more *serious* party goers had presentations to make on Monday so they didn't live up to their reputation: the bar bill was 50% smaller than expected.
Good news: The same thing was repeated on Monday night, with the exhortation to do better this time ringing in their ears.
Bad news: Monday night came and went, and almost no one showed up. Turns out there was some other event, and *my* bar bill was a full order of magnitude smaller than Sunday night.
Good news: I'm gonna do it again, this time in Waterloo, Ontario, home of MEC. And I've saved the Sypub sign...
...shhhhh, don't tell anyone!
---
<! ******************** ******************** >
Best Afternoon Session - SQL6

Writing SQL Remote Update Publication Statements

- David Fishburn
Yowsa... finally, after all these years, I actually UNDERSTOOD what the UPDATE PUBLICATION statement is all about! That doesn't mean I'll *remember* it for very long, but I've got the handouts now :)


---
<! ******************** ******************** >
Quote Of The Day - Wednesday
"Portal is French for home page."
- Anonymous, but a different one, who doesn't need any more publicity
---
<! ******************** ******************** >
Best Speaker - David Fishburn
Absolutely, without a doubt, he's best I've ever heard at any Powersoft/Sybase conference, and quite possibly the best speaker I've ever heard.
David made a first-time presentation (SQL6) seem polished with age and familiarity. Not only that, when Kouros Gorgani invited him to present part of the AM21 UltraLite session, David was smooth and effective even though he was using slides he'd never seen before.
It must have something to do with knowing the subject, you think?


---
<! ******************** ******************** >
Best Airport - Not This One!